Challenge. Traveloka's IT teams previously handled approval
requests using manual systems
Solution. The company started using Myndbend Process Manager™️
with Zendesk to raise support tickets and automate approval
workflows
Impact. Every IT support request now enters an automated
workflow, eliminating manual work while ensuring Traveloka
adheres to its ideal approval process.
Background
Established in Jakarta, Indonesia, Traveloka is Southeast Asia's leading
travel platform. Its platform attracts over 55 million active users every
month, helping travelers find the best deals on flights, hotels and local
experience.

The company has more than 2,400 employees who are supported by IT
teams across divisions. Collaborating efficiently is vital for the IT
team—but in 2020, Traveloka realized it could improve its support and
approval workflows to manage and create a more systematic flow.
Challenge
To manage Traveloka's wide-ranging support needs, the IT team operates
an internal help desk. When a support request comes in, the IT team
categorizes it, and where necessary, asks managers to approve key
decisions. While these approvals are vital, an internal review revealed that
the flow could be improved to ensure the end users follow Traveloka's
approval processes.
On top of this, the previous system made the IT teams manually assign
support tasks to each other using a ticketing system that lacked
event log information. As a result, the Traveloka IT Team had limited
visibility of event logs showing how and by whom each ticket was
resolved. Since the previous system had many limitations, the team was handling ticket updates and other tasks manually, so it couldn't respond
to incidents efficiently and effectively.
Solution
Automating support and approval workflows
Looking for more structured and efficient ways to handle support tickets,
the company implemented Zendesk, a customer service CRM. Traveloka's
goals were to automate its approval workflows in line with company's
internal procedures and to provide a reliable audit trial. Additionally,
Traveloka also implemented Myndbend Process Manager™️—an app that
enhances Zendesk's ticketing capabilities.
With Myndbend, Traveloka is able to use pre-defined ticket templates to
digitize and automate its workflows. For instance, if a new employee
needs a laptop, the IT support team can select a pre-configured support
ticket template. The request is then automatically sent to the right
approvers via email.
Because Myndbend automates the workflows, Traveloka can now handle
support requests without slow, manual task management. In addition,
since the groups of approvers are pre-configured, requests always go to
the right people—even when a ticket needs multi-level approval.
Simplifying additional sub-requests
Often in IT support, a seemingly simple support request can quickly
snowball into a more complex one. When these scenarios arrive,
Traveloka can add new sub-requests to the original support ticket using
Myndbend's child tickets.
For example, the IT team might receive a request to perform routine
maintenance on a server. However, a team member then sees that the
servers need additional maintenance, like a memory upgrade. Instead of
creating a new ticket requesting approval for the memory upgrade, the
team member simply raises a child ticket that's attached to the main
ticket.
Because the child tickets sync information with the parent ticket, using
child tickets gives managers clear visibility over the workflow. What's
more, child tickets can be pre-configured with their own automated
workflows, ensuring approval requests are always sent to the correct
approvers.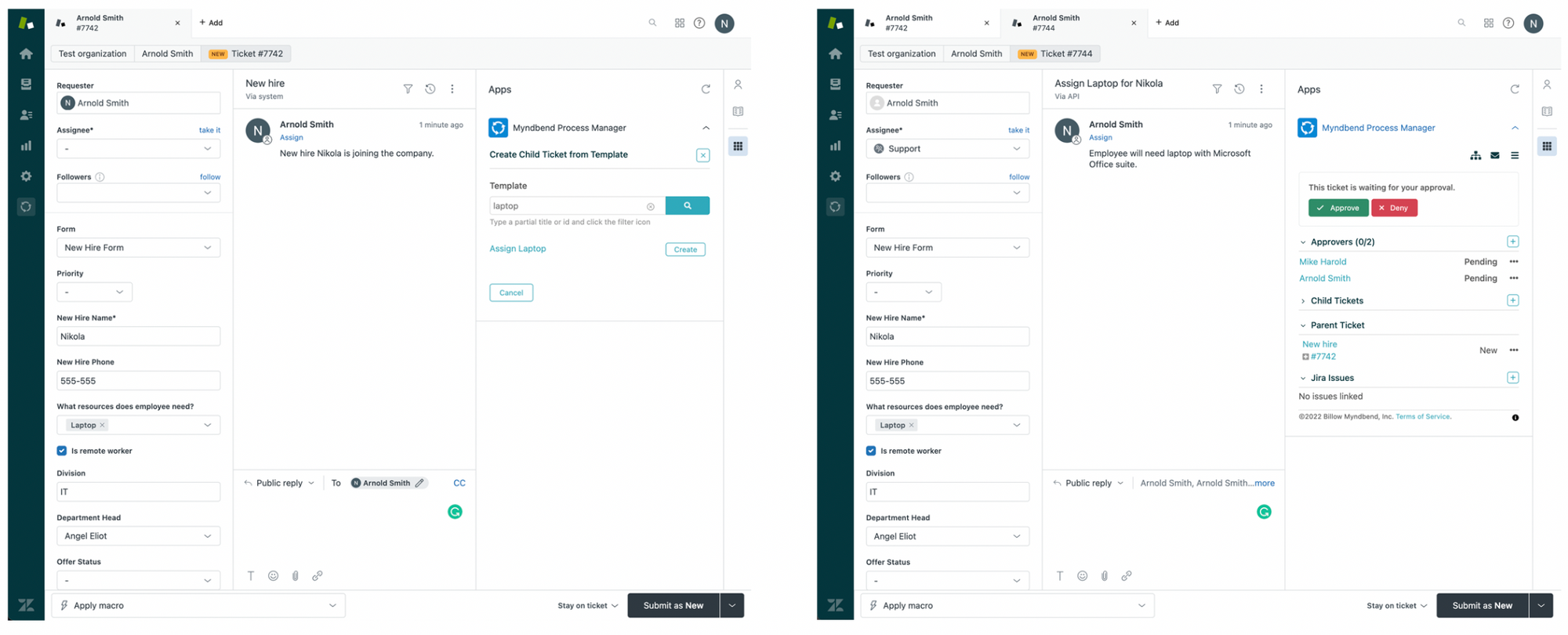 Guaranteeing a reliable audit trail
As part of Traveloka's previous ticketing system, the auditing of support
ticket responses was done manually. This meant that auditors might have
less visibility over request details, recipients, and approvers.
With Myndbend, auditors can now open a support ticket to see a precise
log of approvers and actions taken. What's more, they can review this
information for both the parent tickets and any child tickets that
employees raise.
Because of the data-logging capabilities of Zendesk and Myndbend,
Traveloka can also carry out helpful reporting when it's time to audit. For
instance, it can use Zendesk's Explore feature in combination with
Myndbend data to view average incident resolution times for different IT
teams.
Impact
Thanks to the combination of Zendesk and Myndbend, Traveloka no
longer relies on disconnected manual systems. Instead, the company uses
pre-configured approval workflows to ensure its processes are followed
correctly.
What's more, these automated workflows are now helping the IT team
respond to incidents faster and more efficiently. This allows the team to
spend less time on handling backlogs to allocate its time and resources
for development and other projects instead.
Being a data-driven company, Traveloka measures the performance of its IT service desk using the ITSM maturity model. According to the IT Service
Delivery Team at Traveloka, the service desk maturity was at "early/Initial
level" before the utilization of Zendesk and Myndbend.
With the new systems, Traveloka's IT team is now at "defined level,"
meaning that the organization is more proactive than reactive and there
are organization-wide standards that provide guidance. In other words, it
has become a forward-thinking, customer-centric internal resource.