Systematize your current ITIL Change Management process in Zendesk while maintaining high-quality standards. That's the power of Myndbend Process Manager for Zendesk.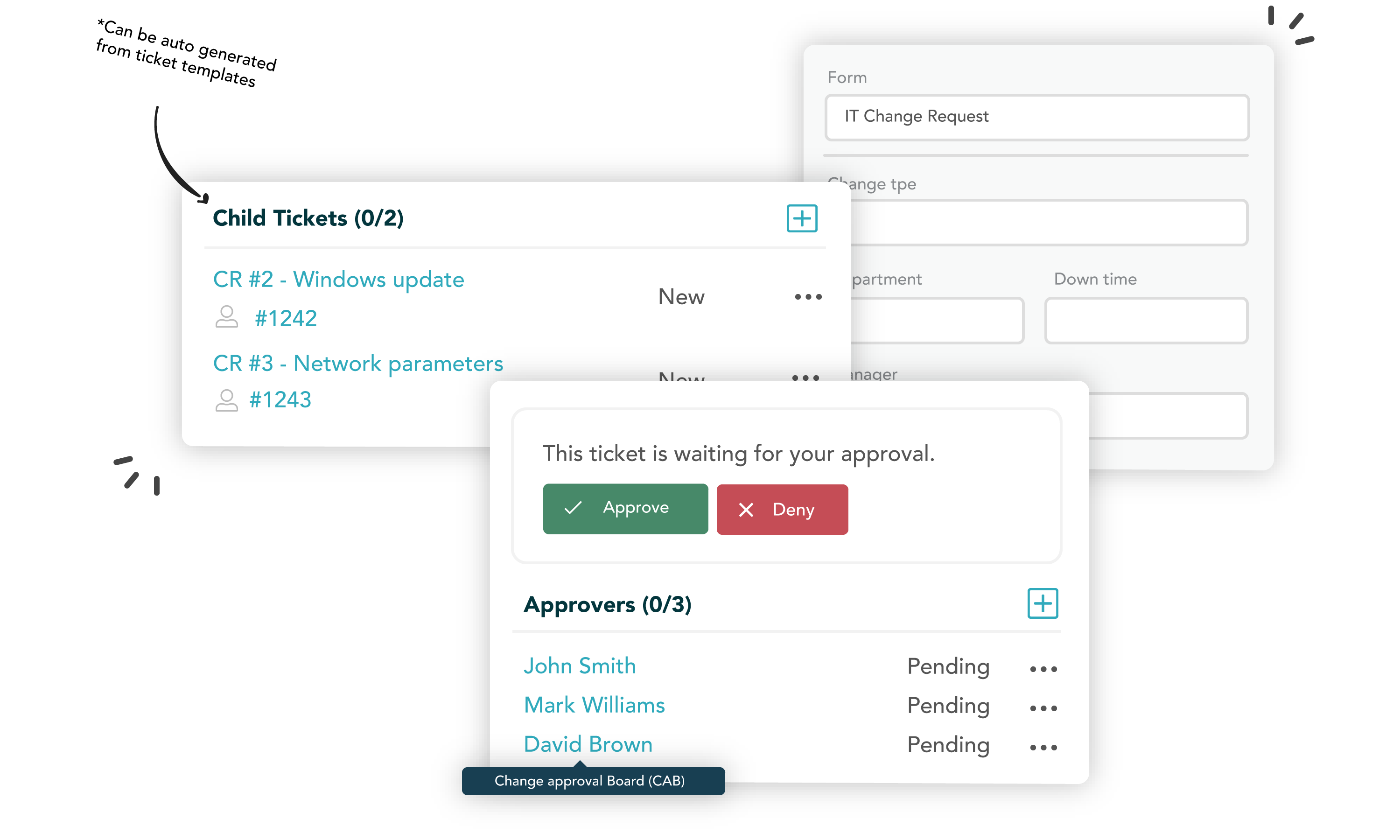 A high-powered Zendesk app designed for more efficient IT Change Management.
Myndbend Process Manager helps you establish tighter controls around IT services and software releases while accommodating multiple levels of approval across departments with automated tasks, parent/child tickets, and approval processes within your existing Zendesk setup.
The app you need when controlling cost and reducing risk is the name of the game
Learn more about how Myndbend Process Manager for Zendesk works
Automatically add approvers and child tickets
When your implementation teams take on new IT projects, wouldn't it be nice if the necessary child tickets, tasks, and approval workflows were created for these groups automatically? Requesting approval from a certain number of team members or requesting approval in a particular sequence? Myndbend Process Manager makes it easy.
Lock ticket fields once the approval process has started
Once the approval process has started, you might want to keep certain fields from being edited. Pick and choose which fields to lock down, and get notified if someone tries to temper with the information in them.
Schedule a ticket
Often, there are recurring tasks that happen every X days. Myndbend Process Manager helps you automate these tasks.
Approval overview
Get easy access to all of the approvals in your organization so you know who approved what, when, and how fast!
Keep teams and stakeholders informed
Not knowing is no longer an excuse—Myndbend automatically adds change approvers and generates email requests for approval when required. Change managers can approve, deny, review, and comment on approval requests from their email.
Avoid cost inflation and liability with auto-escalation
Big IT projects have many moving parts, and keeping teams on task and on time is an age-old problem. Myndbend Process Manager allows you to escalate automatically or flag tickets exceeding the acceptable completion time.
Templatize change management models
Part of reducing cost and limiting liability is proofing your change process against sudden change, unexpected events, and exceptions. With Myndbend, you can include contingency instructions directly into your process templates.
Keep your change advisory board happy and your staff up-to-date every step of the way
Close control, from start to finish
Our goal is to support a common objective in IT: maximize value, reduce service disruptions from incidents and rework, and align with business needs. From creation, review, and approval to testing, implementation, and follow-up, Myndbend gives you the control you need to keep things on schedule and compliant.
Establish reliable audit trails for every project
Not only can you sequence approvals by establishing a simple hierarchy of approvers and automating your IT change workflows with triggers, but Myndbend makes it easy to establish auditable processes for better IT change control that follows the latest best practices. When things go wrong, you'll know how to address the problem and avoid it next time around.
Empower your advisory board
Myndbend helps facilitate convenient communication between responsible parties, transparency among stakeholders, and flexible control of permissions and accessibility.